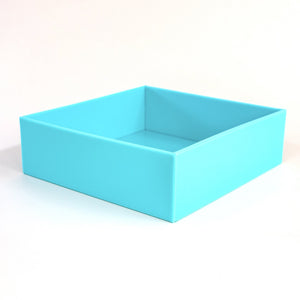 WORKSHOP HERITAGE
Pro-Soaper Triple Standard Silicone Liner - MADE IN USA
Regular price
$48.00
$0.00
THANK YOU FOR YOUR SUPPORT OF USA MADE PRODUCTS!
ALL OUR ITEMS ARE MADE IN USA ON OUR SITE INCLUDING SILICONE LINERS! 
This silicone liner is a replacement/addition for our Tall Skinny Triple Width Mold.
It serves great as an additional liner available to use while your soap is not quite ready to unmold.
Silicone Liner dimensions: 10 1/2 x 3 x 10 (Width x Height x Length)
Capacity: 155 liquid ounces
Our silicone resin is USA made and the  process of pouring, curing and finishing the silicone liners is completed on our site.

NO RETURNS ON SILICONE LINERS AND ITEMS CONTAINING SILICONE
---
More from this collection