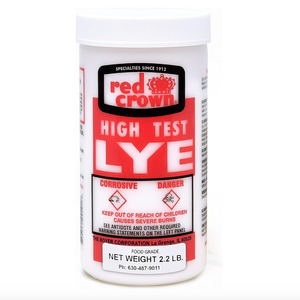 WORKSHOP HERITAGE
Sodium Hydroxide Lye 2.2 Lbs
Regular price
$11.00
$0.00
This is an essential ingredient for handmade cold process soap. It comes in granulated form so it's easy to measure for your recipe.
Ingredients (INCI Name): Sodium Hydroxide

Recommended for cold process soap making. Not recommended for melt and pour or bath bombs.

Weight: 2.2 pounds
Due to shipping restrictions, you can only purchase 4 jars per transaction

Usage Instructions: Lye can be dangerous if it's not handled properly. Learn how to work with it safely before getting started. Find out how much to use in your recipe with the lye calculator. Wear safety gear, gloves, and goggles when handling lye.
Best to mix lye in well ventilated area. 
Always pour the lye into the liquid, never the other way around. Stir until it's dissolved. Cool before pouring into oils.

Shipping Restrictions: Ground Only


---
More from this collection